World of Tanks (EU): February Close Look
2 min read
February… a cheesy month that for some reason, we like to have it cheese in World of Tanks too. Make the most of the love month, with specials, promotions, in-game events and much more.
February Specials
Crippling blow
Top of the Tree
On the offensive
Valentine's Day
Xtra Progress
XP Fever
1–4 February: Use the first weekend to show some love to your crew but not your enemies.
HIGHLIGHT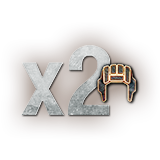 x2 Crew Experience
5–20 February & 20 February – 5 March: That's right! Top of the Tree is back and twice as strong. Start off on the US tank destroyer path and make your way to the T110E3. But be quick! Instead of one special for an entire month, you can now try and reach new heights every two weeks. This time, Swedish heavy tanks up to the Tier X Kranvagn will take you right into March.
8–11 February: The best defence is a good offence. Send enemy tanks back to the garage to earn a nice XP boost.
HIGHLIGHT

Personal Reserves
14–18 February—Valentine's Day Special: Be our Valentine and accept great discounts and missions!
14–21 February—What is Löwe?—Special: There are a million tanks, but only one to conquer your heart! Show your love for the game and collect personal reserves and more.
HIGHLIGHT

A bouquet of consumables
22–25 February: Keep treating your favourite vehicles right with extra experience.
HIGHLIGHT

XP for almost every tier
29 February – 3 March: We never get sick of XP but will catch the occasional fever from it!
HIGHLIGHT

Even more XP