World of Tanks: Steel Hunter Stage 3 is now Live!
2 min read
The Expedition Continues!
From October 12 to October 19, fight in Stage 3 to earn your tokens and claim your place as the best Steel Hunter. In addition to a bunch of in-game rewards, during each of Steel Hunter's 4 Stages, you can earn up to 3 tokens for a potential total of 12. Use tokens to grab any one of the three exclusive Tier IX vehicles for 12 tokens each: AE Phase I, Object 777 Variant II, Char Futur 4.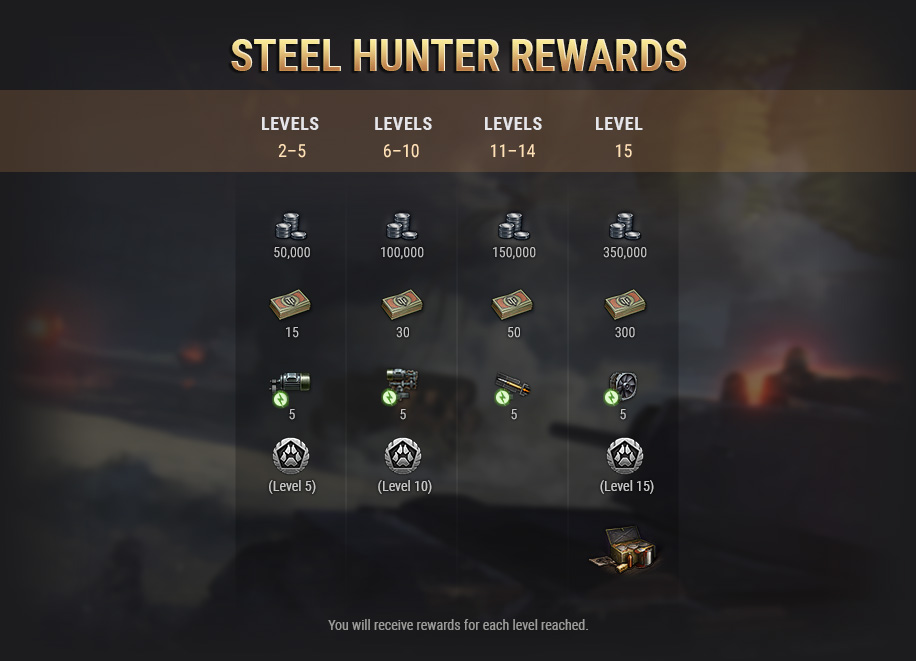 Compensation for Remaining Tokens at the End of the 2020 Season
After completing the Expedition Season 2020, you can get compensation for all your remaining tokens, regardless of whether you have enough to purchase a reward tank or not.
After all Stages are over, you will still have time to exchange tokens for unique reward tanks, if you haven't grabbed them yet.
After this period is over, all your remaining tokens will be automatically compensated at the rate of 1 token: 250 bonds, even if there are enough to exchange for reward tanks. To get the bonds, you just need to log in to the game client.
Stage Changes
Since the last stage, several changes were made to the following event vehicles:
Walküre and Varyag – aiming time, dispersion during vehicle and turret movement, and traverse decreased for all guns.
Harbinger – level IV and VII autoloading guns DPM slightly increased.